Fuel oil (and/or gas) efficiency monitoring systems
Our fuel oil efficiency monitoring systems measure besides the fuel consumption, the various KPI's that make up and influence your ships efficiency. The data is processed through a PLC and graphically displayed on a touch screen panel.  The systems are of a modular design and can measure data from up to two main engines with associated propulsion trains and up to four auxiliary consumers with various energy outputs. For each individual consumer the system can record up to three different types of fuel oil (or gas). From the navigation bridge data from GPS, speed log, wind meter and echo sounder are recorded.
Besides actual consumption and efficiencies, daily (24 hour) counters and separate voyage counters are available, as well as a speed trial functionality for determining the propulsion and hull performance.
Various dashboards, graphs and alarm settings complete the systems functionalities.
Several reports are generated automatically in CSV format and stored onboard by the fuel efficiency monitoring systems. They can be opened in Excel or used as input for analysis software. (see also online reporting and analysis). Available reports are:
log files
daily reports
voyage reports
voyage update / progress reports
fuel oil change over reports
speed trial reports
MRV reports
The reports can be accessed by any ships computer connected to the ships Ethernet. Ships officers can use these for making reports or can be send to the shore office(s)
All available data can also be retrieved from the systems by MODBUS over Ethernet for use by other management software.
Communication
Ships ethernet
The system communicates over the ships Ethernet, making it unnecessary to install additional cabling from the engine room to the navigation bridge. We can arrange the complete installation and commissioning, including the integration with the various ships systems.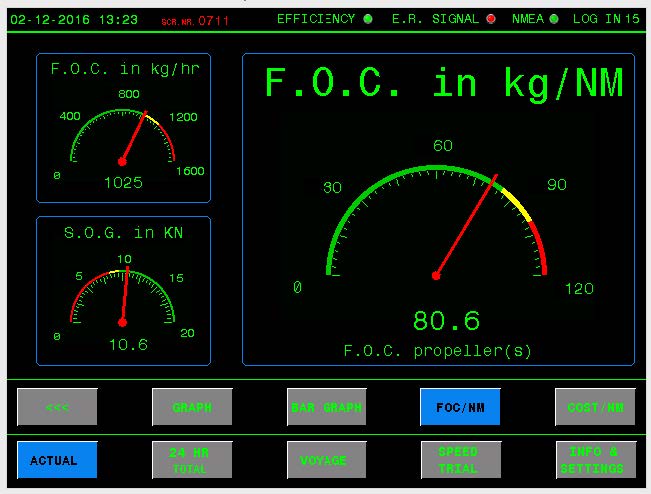 Watch our promovideo
Discover how our system can change your fuel efficiency.